28 January 2021
Different of Hand Tools and Their Uses
Hand tools are the extensions of our hand—they are tools that can be used by hand and do not require any electrical or motor power.
Useful when you don't need a power tool, they are basic necessities that help in carrying out even the smallest household tasks. These non-powered tools are primarily used to put things together, such as hammers and nail guns, take things apart, or both.
Whether you're an amateur or seasoned trade professional. If you want to know more about them, we've compiled a comprehensive selection of hand tools from top trade brands to help you tackle any task.
Commonly Used General Purpose Hand Tools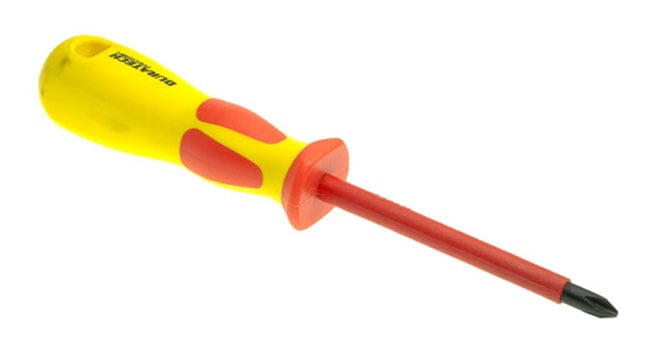 1. Screwdrivers
Screwdrivers are one of the must-have hand tools in every household utility kit. Not only can they be used to screw and unscrew nails on any surface, but also they do a great job tightening hinges, installing light switches and assembling furniture.
Here, we offer different types of screwdrivers—from Electrician high voltage to Ergonomic and Torx, plus Allen Keys & Speciality screwdrivers—we've got you covered!
Electrician Screwdrivers – High Voltage
Electrician Screwdrivers are great for anyone servicing 240v equipment, they are rated at 1000v with an insulated shaft. They also feature an extra comfortable, rubberised grip and chrome vanadium shaft with magnetic tip.
(2.5 x 75mm) Flat Blade – TL4200
(3.0 x 100mm) Flat Blade – TL4201
(5.5 x 125mm) Flat Blade – TL4202
(6.5 x 150mm) Flat Blade – TL4203
(8.0 x 175mm) Flat Blade – TL4204
(0 x 60mm) Phillips – TL4205
(1 x 80mm) Phillips – TL4206
(2 x 100mm) Phillips – TL4207
(3 x 150mm) Phillips – TL4208
Screwdriver High Voltage (Set of 7) – TL2022 – A quality set of 7 screwdrivers, insulated to the tip with storage box. GS and DVE tested and approved to 1000V. Other product features include: Red handles and insulation right to the tip, and carry case included.
Ergonomic Screwdrivers
Ergonomic screwdrivers feature a soft rubber handle and a chrome vanadium shaft with magnetic tip. Great for service technicians and installers.
(145mm) Pro Grade Driver Phillips – TL4350
(195mm) Pro Grade Driver Phillips – TL4351
(208mm) Po Grade Driver Phillips – TL4352
(145mm) Pro Grade Slotted Shaft – TL4343
(195mm) Pro Grade Slotted Shaft – TL4345
(208mm) Pro Grade Slotted Shaft – TL4346
Torx Tamper Proof Screwdriver
This Torx Tamperproof Screwdriver (TL2060-20S) features a 6 point star-shaped pattern. Due to this design, screws to match this driver are more secure and are less likely to be damaged.
Allen Keys & Specialty Screwdrivers
Allen Key Set (TL4709) – This Allen Key Set is an excellent addition to your toolset. It includes nine individual Allen Keys with a variety of diameters and a ballpoint end.
Hex Nut Driver Set (TL2039) – This Hex Nut Driver Set includes seven individual tools, featuring deep sockets that allow a generous length of thread to protrude though the nut you are tightening. Sizes supplied are M3, M3.5, M4, M4.5, M5, M5.5, and M6.
Jewellers Screwdrivers Set (TL1009) – Jewellers Screwdrivers set which includes six individual screwdrivers. All drivers are flat blade type with serrated grips and rotating top ferrule.
Precision Screwdriver Set (TL1007) – This Precision Screwdriver set includes 3 Phillips head and three flathead screwdrivers, colour-coded by width. This set is perfect for any small or detailed work!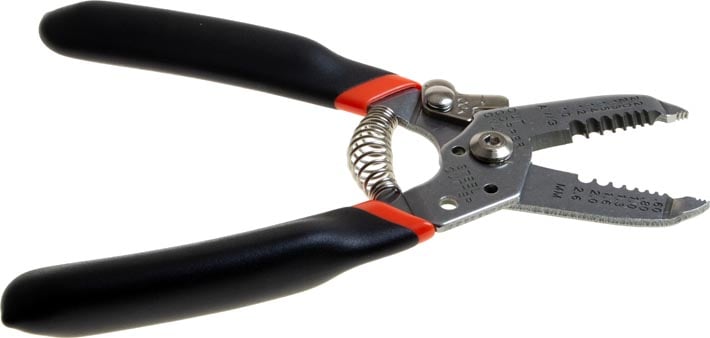 2. Wire Strippers
Commonly used by workers—particularly electricians, a wire stripper is a portable handheld tool for removing the protective coating of an electric wire to replace or repair the wire. Electricians also use this tool for stripping the end portions of an electric wire to connect them to other wires.
Cabac Wire Stripper (TL5010) – This Cabac Wire Stripper is of exceptional quality and is made in Germany. It features a 'Double V' blade stripper with cutting depth adjustment.
Economy Wire Stripper (TL5030) – These economy wire strippers are fully adjustable and simple to use. Designed with a wire looping hole and length scale, the jaws incorporate cutting and stripping blade, and it comes with hardened jaws.
Heavy Duty Wire Stripper Tool (TL5020) – Heavy-duty wire stripper tool featuring a selectable depth function. As a result, they can be set from 1.0mm to 3.2mmsq. Easy squeeze, spring-loaded.
T-Rex Wire Stripper (TL5024) – This automatic T-Rex wire stripper is our most universal, stripping from a 0.5-6mm² wire with self-adjusting jaw system that won't damage PVC insulation.
Universal Wire Stripper 3-in-1 (TL5035) – This Universal Wire Stripper has a 3 in 1 function with strip wire sizes from 0.6mm to 2.6mm. It is spring-loaded with locking jaws and has soft rubber handles for added comfort.

3. Crimping Tools
A crimping tool is equipment used for conjoining two pieces of metal by deforming one or both of them to crimp. The purpose of this tool is to prepare a network or a phone cable for use. An example of crimping is attaching a connector to the end of a cable.
Check out our range of crimping tools for RF & Coax connectors, wires, terminals and RJ Telephone connectors below.
Crimping Tool 10 GIG RJ
The Crimping Tool 10 GIG RJ (TL0004) is designed for 10Gig termination. It allows you to do 2-step crimping simply and efficiently. In addition, after terminating the pins of the modular plug, the user can switch to the back end to crimp—letting you crimp the external ground of the Cat 6A connector.
Insulated Terminal Crimp Tool
This Insulated Terminal Crimp Tool (TL5040) is for crimping pre-insulated terminals. It also has a handy wire stripper and cutter. Warning: Do not use on live circuits. Please wear safety goggles.
RG 58 59 & 6 Coax Crimper
Crimp and strip round Coaxial cable with this RG 58, 59 & 6 Coax Crimper (TL1030). Designed to be strong and long-lasting, this modular crimp tool features a ratchet-type locking system. The tool is designed to crimp 58, 59, 62, 6 and 140 cable to fit into its relevant connector. This is perfect for both storage and crimping applications.
Terminal Crimper Uninsulated Type
Crimp and trim a massive range of wire types with this Uninsulated Terminal Crimper (TL5164). Designed to crimp most D subtype & roll in uninsulated terminals, it can crimp terminals 14-18 and 22-26 AWG wire. The tool also features a cutting tool between the two handle grips, allowing for the highest amount of leverage to be applied while cutting.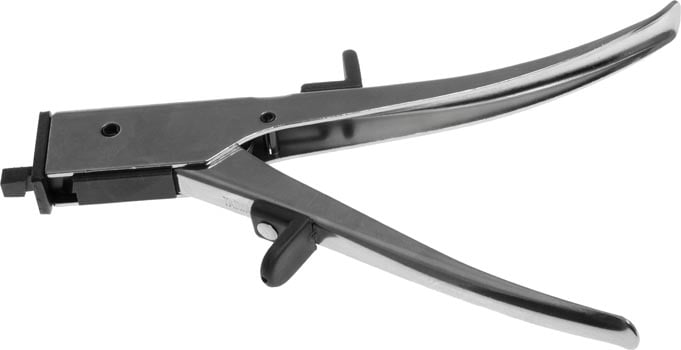 4. Metal Nibbling Tool
A hand metal nibbler is a powerful tool that can cut sheet metal and a variety of other materials. If you're looking for a portable device that can punch holes through sheet steel, then you're going to like this Metal Nibbling Tool (TL1768) that cuts up to 18AWG Mild Steel Sheet.
This little cutting tool will nibble out small holes for fuse holders, connectors, etc. By squeezing the handles together, the punch moves down and cuts out a slug of material.

5. Pliers and Side Cutters
Another essential part of every toolbox is pliers. Thanks to their multiple-uses, you can use the jaws for gripping, bending and cutting. When you have the right pair of pliers for the right job, it will improve your work process efficiency and safety.
Our Heavy Duty Pliers are high-quality hand tools, carbon sheet, drop forged, hardened and tempered with insulated handles. Check them out below.
Combination Pliers (160mm) – TL7010
Diagonal Cutters (160mm) – TL7070
Long Nose Pliers (160mm) – TL7050
Diagonal Cutters (180mm) – TL7080
Combination Pliers (200mm) – TL7030
Long Nose Pliers (200mm) – TL7060
Our side cutters & mini pliers are high-quality hand tools. What's more, they are spring-loaded, have carbon sheet, drop forged, hardened and tempered with insulated handles. Check them out below.
Combination Pliers (115mm) – TL8010
Diagonal Cutters (115mm) – TL8020
End Cutters (115m) – TL8050
Bent Long Nose Pliers (130mm) – TL8040
Flat Nose Pliers (130mm) – TL8055
Long Nose Pliers (130mm) – TL8030
Needlenose Pliers (140mm) – TL8035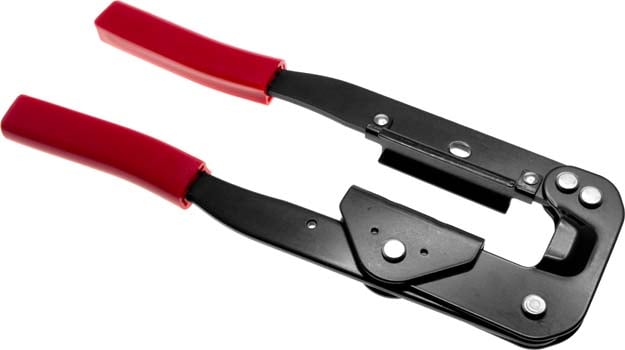 6. IDC Connector Crimp Tool
The insulation-displacement contact (IDC) connector crimp tool is the ideal tool used for installing IDC connectors onto ribbon cable. This crimp tool produces quality, repeatable results and at the same time, providing a constant even pressure over the whole surface of the IDC connector.
Here we have the IDC Connector Crimp Tool (TL0054) which suits all IDC cable connectors. They are commonly used for connecting items such as SCSI and IDE computer plugs. Don't destroy connectors with a vice or a hammer, crimp them the easy way.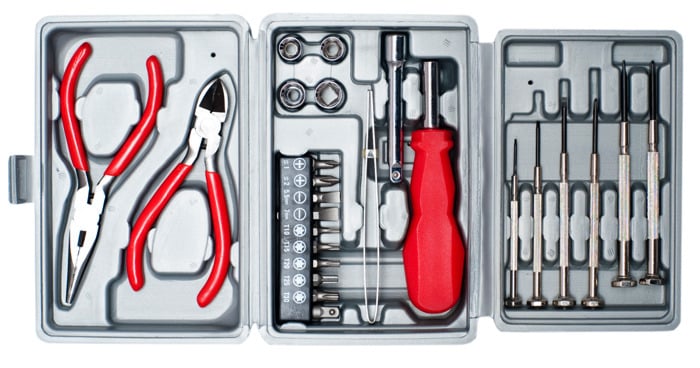 7. Electronics Tool Kit
This electronics tool kit (TL1008) is ideal for student or personal use. What's more, this handy kit keeps all individual hand tools together in one package. Perfect for hobbyists and a great kit to have around the house.
Other product features include:
Contains a range of popular service hand tools<
Supplied in a rigid, blow moulded case
Article was published by © Wiltronics Research Pty Ltd 2020
https://www.wiltronics.com.au/wiltronics-knowledge-base/different-types-of-hand-tools-and-their-uses/